Ti-Max S970 Air Scaler
Regular price
£1,369.10 GBP
Regular price
Sale price
£1,369.10 GBP
Unit price
per
Sale
Sold out
Performance and Versatility
The S970 air scaler offers a wide power range with easy swivel power adjustment and an extensive tip range for a wide variety of applications ranging from general scaling and root canal irrigation to minimally invasive procedures. The wide range of applications, comfortable grip and ease of maintenance makes the S970 air scaler the instrument of choice for dentists and hygienists alike. A titanium body and sleek, seamless design make the S970 really comfortable to hold even during long procedures whilst allowing for excellent visibility of the operating site at all times.
Technology & Function
Slim Body

The sleek design of the S970 allows for unrestricted visibility of the treatment area and excellent access to even the most hard to reach areas.

Smooth and Easy Power Control Ring

NSK Power Ring offers three different power level settings for diverse clinical needs. While the gentle minimum mode is for delicate procedures, the maximum power mode is good for general scaling.

Twin Light

When combined with one of NSK's LED couplings the S970L will provide daylight quality illumination of the operating site making procedures less strenuous on the eye. Clearer visibility results in faster more precise treatment.

Titanium Body

Titanium is 30% lighter than stainless steel, more durable and corrosion resistant. The reduced weight and well balanced shape gives an unmatched tactile sense.

Tip Line-up

NSK offers a wide choice of air scaler tips for clinical applications.
Ti-Max S970 Air Scalers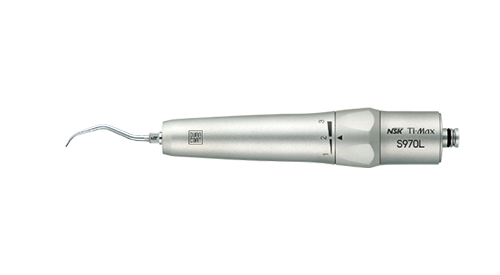 Optic

Model:

S970L

Order Code:

T1005
Non-Optic

Model:

S970

Order Code:

T1020
Specifications
Body Material
Titanium
Body Coating
DURACOAT
Frequency of Oscillation
5,800-6,200 Hz
Features
Cellular Glass Optics
3 Level Power Ring
Contents
3 Tips (S1, S2, S3)
Tip Wrench (CR-20)
Tip Cover (L)
S970KL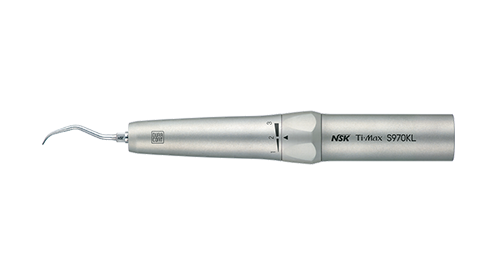 Optic

Model:

S970KL

Order Code:

T1013
Specifications
Body Material
Titanium
Body Coating
DURACOAT
Frequency of Oscillation
5,800-6,200 Hz
Features
Cellular Glass Optics
3 Level Power Ring
Contents
3 Tips (S1, S2, S3)
Tip Wrench (CR-20)
Tip Cover (L)
AS2000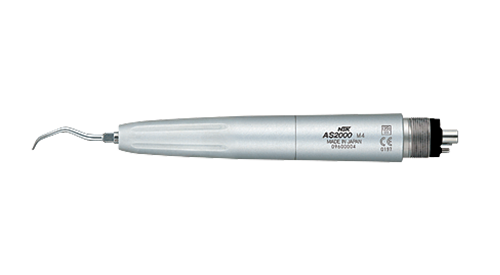 Non-Optic

Model:

AS2000 M4

Order Code:

T698
Non-Optic

Model:

AS2000 B2/B3

Order Code:

T697
Specifications
Weight (Midwest 4 Hole)
67 g
Weight (Borden 2/3 Hole)
64 g
Frequency of Oscillation
5,600-5,850 Hz
Contents
3 Tips (S1, S2, S3)
Tip Wrench (CR-20)
Tip Cover (L)
Share